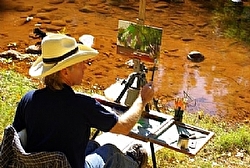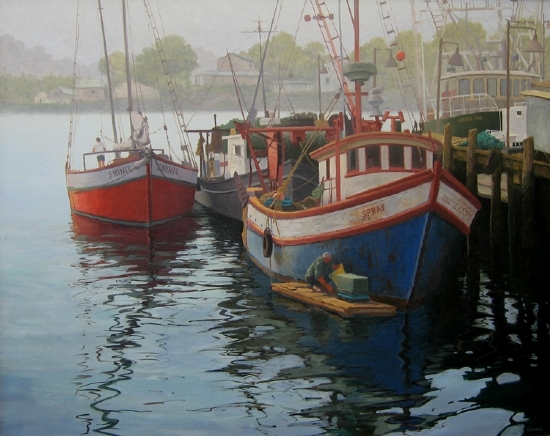 Hello out there,
This is my first "BLOG" (I need to look that word up, later)
I just returned from my annual summer visit to Colorado. I usually leave Arizona in May and slowly meander up through Colorado, Wyoming, Montana, Idaho, Oregon, and California camping, fishing, hiking, and of course painting. I would return to Arizona around October when it starts cooling off again. I would stay in the Sedona area all winter.
A few years ago I bought an acre of land just north of Phoenix so I could have a studio (doing a 48x60in canvas in a 20 ft. trailer with a couple dogs is CROWDED). I have an old mobile home on the property I have made into my studio and a place to hold painting workshops, it also has a Tango floor. I'm still living in my 5th wheel that is parked next to my studio. I have a golf driving range in my back yard which is a river valley with a horse ranch on the other side. The dogs and I hike twice a day where Jack can chase rabbits and quail and Lexi and I can pick up golf balls.
I expect to use this blog to share information about painting, plein air, my experiences as an artist and painter, etc.
---
---
---
1 Response to Aug 27, 2009
Mary Sheehan Winn
via jamesmcoulter.com57 months ago
So, are you giving tango lessons too? ;)
* indicates a required field